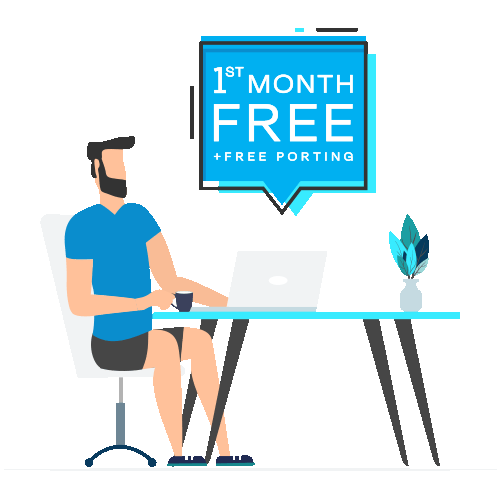 Get 1st Month FREE + Free Porting!
Contact a VoiceLogix Rep for more details.
Easy to Get Started
Set up new users and teams around the world in minutes.
Keep Your Number
Seamlessly transfer your numbers to our service platform.
HD voice and video
Feels like you're in the room with carrier grade voice & video.
Unlike our competitors, we don't nickel and dime you for extra features – we include them. Everything from auto attendants, to extra phones, to mobile softphones and more. You get everything you need to work how you want to with VoiceLogix.
AUTO ATTENDANT
We offer multiple auto attendants to manage your incoming calls, including a directory.
CALL PARKING
Pick up a call, park it, then pick it up on a different device.
USER WEB PORTAL
Our web portal is so easy to use you will be delighted how easy it is to manage your team!
MOBILE APP
With iOS and Android apps you can place and receive calls as if you were at your desk.
CALL REPORTING
Reports for simple call history, call logs, and much more.
MUSIC ON HOLD
Load custom on hold music or messages for your captive audience to listen to.
VOICEMAIL TO EMAIL
All your voice messages are delivered immediately to your email.
CALL FORWARDING
Helps you forward a call when your number is dialed.
UNLIMITED HUNT GROUPS
Create as many hunt groups as you need. Make sure incoming calls get answered!
SIMPLE DIALING
Convenient 7 and 10 digit dialing. No need to dial 9 for an outside line or any other multi-step process.
CALL RECORDING
Crystal clear call recording using our latest voice technology.
US BASED SUPPORT
Our support team is right here in the United States of America!
Integrates instantly with
50+

CRMs